Tripawds is a user-supported community. Thank you for your support!
I thought all the crying was done, but instead I find the one-week mark floods me with fresh emotion as if it were just moments ago I was holding my big girl and whispering into her ears as she lay slowly slipping away from me.   Colin Hay has a beautiful song that captures how I feel right this moment,  the lyrics haunting and confiding moments that paint little pictures of my life this past week.  It starts:
"I drink good coffee every morning
Comes from a place that's far away
And when I'm done I feel like talking
Without you here there is less to say."
As is my nature after I awaken, I shuffle to the kitchen where my husband has left a pot of brewed coffee, knowing that in my morning fog and left to my own devices I might forget the filter or the coffee grounds or even to place the pot in its position and wander off as coffee spills onto the counter and down to the floor.  I rarely speak until I've had at least one cup to clear my stuffed sinuses and my clogged throat and my fuzzy brain. 
My dogs have gotten used to this routine and they wait patiently for me to come around, not asking for pets or attention until I am ready.  They know that soon I will call them each by name and tell them how much I love them and what good pups they are, and then jabber mindlessly in their direction.  I've even come up with a nonsense language that I use when I look at them and my heart swells with happiness and I have no real words to express the feeling. 
Now, without my big girl here, the easy chatter sometimes gets caught in my throat and I fall back into silence.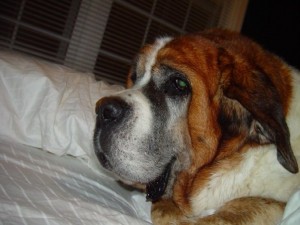 Beesh bongh  chipao.